Outstanding Waurum

®

wood
Our test results speak for themselves. Over the past years, Waurum wood has undergone vigorous tests in Finland, UAE and the United States. The numerous tests have been conducted in universities, wood laboratories, forest research centers and other accredited test facilities.
THE BRINELL TEST
The Brinell test measures the hardness of the wood. The higher the number, the harder is the wood.  Wood is commonly qualified as hardwood if the Brinell Hardness number is 2,6 or more.
All wood in the graph are naturally grown. Planted endangered hardwood are not included in the graph, this is because the hardness of planted hardwood is signicantly lower than naturally grown wood. The presented numbers are average results gathered from various sources.
Waurum wood used in this test was from ash tree.
*Tested by Mikpolis Wood Laboratory in February 2017.
THE WATER ABSORPTION TEST
The water absorption test (EN 927-5) is used to determine how much water is absorbed into the wood. The lower the number, the less water is absorbed into the wood.
Waurum was tested together with two well known and appreciated modern processed wood products: Kebony® and Accoya®.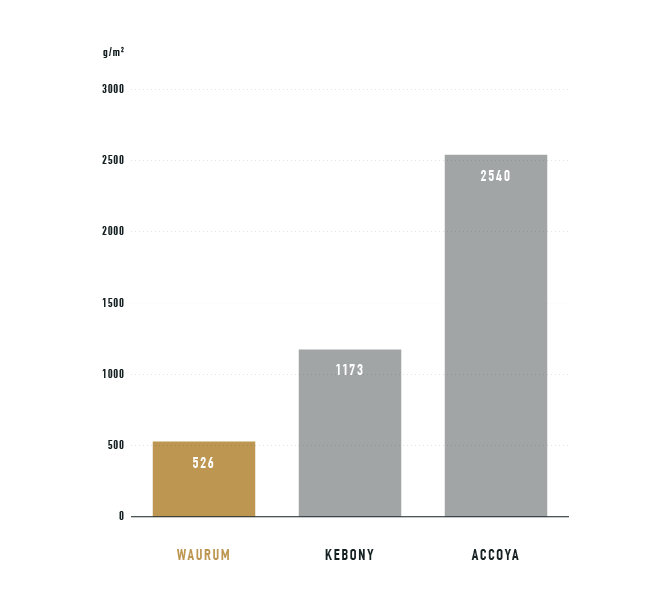 During  the test the specimens are measured, weighed and stabilized in 20°C 65% (RH). After stabilization the specimens are placed under water for 72 hours. After this, the specimens are analyzed and measured. The measure used in the test is grams per square meter (g/m2).
The numbers presented in graphs are averages from numerous tests. Waurum wood used in this test was processed from birch.
The tests were made by Mikpolis Wood Laboratory in December 2016.